Author Marty Appel, Oct. 12
Marty Appel has had an amazing career in baseball. At 19, he was hired to answer Mickey mantle's fan mail, leading to a life-long friendship with the Mick. George Steinbrenner hired him as publicity director for the New York Yankees when A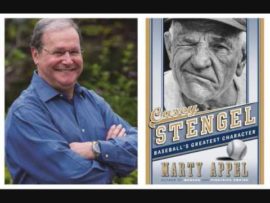 ppel was only 23.
Not only that, but he has written more than 20 books on the sport, including books about Joe MiMaggio, Yogi Berra, Whitey Ford and most recently, Casey Stengel, which includes information on Stengel's connections to Boston and its baseball teams.
Finally, for 20-plus years Appel helped edit ballplayer plaques hanging in the National Baseball Hall of Fame in Cooperstown, NY.
A special presentation by Appel is Thursday, Oct. 12 at 7 p.m. in Taylor Community's Woodside Building. This will be a truly special event, which is sure to fill up fast, so it's recommended people arrive early to reserve a seat.
Posted in: Events, News
---