Camerata New England Piano Trio in Concert Sunday, April 9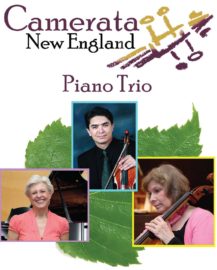 The 2017 Taylor Concert Series continues with Camerata New England Piano Trio, featuring Violinist Omar Chen Güey, Cellist Linda Galvan and Pianist Evelyn Zukerman. Music will include selections by Mozart and Rachmaninoff. The event is Sunday, April 9 at 3 p.m. in Taylor Community's Woodside Building and is free and open to the public.
Güey, a native Brazilian, has performed internationally as a soloist with orchestras, in recitals and chamber music concerts throughout the world. He holds a Doctor of Musical Arts degree from Stony Brook University, a master's degree from Julliard and a bachelor's degree from the Manhattan School of Music.
Galvan holds a Bachelor Musical Performance degree and Performer's Certificate from the Eastman School of Music and was a two-time Fulbright Scholar, studying with Maurice Gendron in Germany. She's been on the faculty of the University of Victoria (British Columbia); performed with the St. Louis Symphony and is well-known as a private cello teacher.
Zuckerman began her piano studies at the age of 3 and by 6 was giving public performances in New York City. A graduate of the Julliard School with bachelor's and master's degrees in piano. She has taught at Tuft's University and the New England Conservatory of Music. Currently she is teaching piano, coaching chamber music and performing regularly in the Upper Valley.
Camerata New England performs in chamber groups of different sizes to offer communities in and around New England access to professional, live musical experiences of the highest quality.
Posted in: Events, News
---