Lakes Region Woodwind Quintet Nov. 5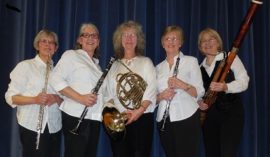 The 2017 Taylor Concert Series continues with the Lakes Region Woodwind Quintet. The group features Doris Henney, Flute; Kendra Corcoran, Oboe; Debbi Gibson, Clarinet; Nancy Goldenhar, Bassoon, and Robin Jackman, French Horn.
The concert is scheduled for Sunday, Nov. 5 at 3 p.m. in Taylor Community's Woodside Building. This free event is open to the public. Featured will be music by Barthe, Respighi and Deslandres, as well as a variety of holiday favorites everyone will recognize.
Posted in: Events, News
---