Pianist Kevin Ayesh Performs April 19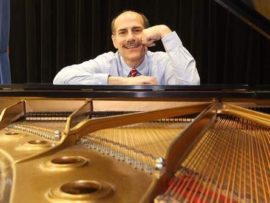 Pianist Kevin Ayesh has performed concerts and presented master classes throughout the U.S. as well as Canada, Germany and Hong Kong. He brings his talents to Taylor Community's Woodside Building Wednesday, April 19 at 6 p.m. The event is free and open to the public.
Dr. Ayesh has been the head of the Music Department at Blue Ridge Community College – an all-Steinway School – in Flat Rock, N.C., since 1992. As a North Carolina Visiting Artist for four years, he appeared before thousands across that state, performing as many as 50 recitals in a season.
Doctor Ayesh is the recipient of several accolades, including the Naftzger Piano Award; Baltimore Music Club Award; and winner of both the JCC Baltimore Piano Competition and Maryland State Music Teacher's Elizabeth R. Davis Memorial Piano Competition.
Posted in: Events, News
---