The Story of Laconia's Historic Churches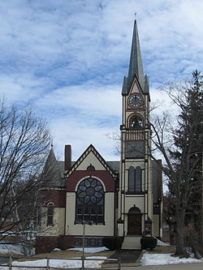 Laconia is the home of many architecturally beautiful buildings, including our churches. Brenda Kean, Taylor Community's Director of Resident Life, will present a program on the Historic Churches of Laconia, Wednesday, March 29 at 2 p.m. in Taylor's Woodside Building. The event is free and open to the public.
Kean's lecture focuses on a research project she prepared while director of the Laconia Historical and Museum Society. Theses churches hold a great and interesting history – some moved around town and others were ravaged by fire. With photographs old and new, Kean presents the history of these beautiful houses of worship.
Posted in: Events, News
---