The Taylor Playreaders Present "Forever Yours"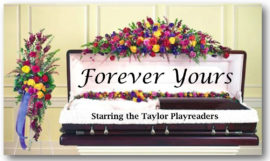 For a fun-filled afternoon, come experience the Taylor Playreaders as they present a one-act comedy entitled, "Forever Yours," Monday, Oct. 30 at 2 p.m. in the Taylor Community's Woodside Building. The event is free and open to the public.
The play opens in a funeral parlor after Emery Glass' death at age 65. His active life included eight marriages, all of which ended with his wives divorcing him. The marriages lasted between four months to two a half years.
Three of the ex-wives attend the funeral, meeting one another for the first time. This provides the women the rare opportunity to share and explore why each one ended their marriageThe funeral director maintains his professional attitude as Emery protests the comments others make about him. Emery's brother and sister, Howard and Ginny, present the history of his life. The siblings are caregivers to their mother Gertrude, who is often confused and outspoken. Emery's daughter, Sally, arrives with two young children who are heard, but not seen.
Perhaps you'll be able to figure out why the deceased's marriages failed. In any case, you'll enjoy trying.
Posted in: Events, News
---