Taylor Breaks Ground on New Cottages
Beneath a cloudy sky that gave way to glorious sunshine, Taylor Community's Board of Trustees, staff, residents, local community dignitaries and architect and construction members came together to celebrate the ground-breaking of its newest cottages.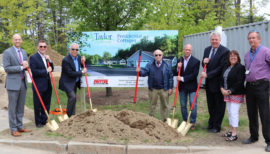 The Presidential Cottages will consist of six 1,950 square foot custom homes located in a new neighborhood near the Woodside Building. Construction is scheduled for completion near the end of 2019.
After welcoming attendees, Kirk Beswick, VP of Facilities Maintenance, introduced David Pearlman, Taylor Board Chairman. "The board tries to find ways to make life better for people. Thanks to President/CEO Michael Flaherty's leadership, Taylor has been able to fill the community and now expand it with six beautiful, new cottages. This is a tribute to everything offered here, making this an even better place to live."
The street for the new neighborhood will be known as Volpe Way in recognition of H. Thomas Volpe's nearly 40 years of Taylor Community involvement. Pearlman said, "As well as being a leader in the local community, Tom symbolizes enthusiasm and service to Taylor. His contributions are beyond description."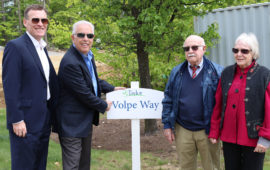 Besides Bank of New Hampshire, which financed the project, Flaherty recognized a number of those in attendance who assisted in making the day possible. Included were David Laurin Architects; Conneston Construction, Inc.; Nutter Enterprises; Steven J. Smith Associates; Turf Pro Landscaping and Terrain Planning & Design.
For more information about the new cottages, or Taylor Community in general, the Lakes Region's premiere Continuing Care Retirement Community, contact the Marketing Office at 366-1400.
Posted in: Events, News
---