Other Voices, Other Lives Comes to Back Bay Jan. 10
Two years ago, Barbara Bald and her poet-friend Beth Fox decided to explore the possibility of reading poetry to assisted living residents. To their surprise, they found not only did the residents enjoy hearing the poems, but the poems themselves stirred memories inside each of them. As a result, new poetry was written to reflect their stories and oral histories.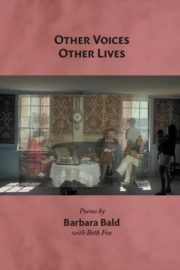 Barbara will share the results of this wonderful project at Back Bay, a Taylor Community in Wolfeboro, Tuesday, Jan. 10 at 2 p.m. The event is free and open to the public and will be held in the campus' Community House, 66 Taylor Drive.
Writing since the age of 12, Barbara Bald has always been enamored by the music of words and awed by how they combine to create images in the mind and stir the heart. For ten summers she attended the Frost Place Poetry Festival in Franconia, NH and worked at the museum for several years.
Back Bay, a Taylor Community, is a not for profit Continuing Care Retirement Community whose mission is to provide the highest quality retirement living options to support the independence, health and dignity of community residents. For more information, call 603-524-5600.
Posted in: Events, News
---