Author John Tuohey, rescheduled from March 25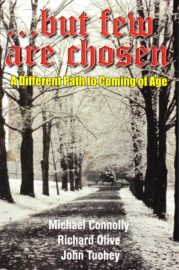 "…but few are chosen," is the story of three boys coming of age in the mid-1950's. Growing up in working class Irish Catholic neighborhoods in the northeast U.S., they are desperate to escape lives of loneliness, petty crime and violence. At 13, ready to enter high school, they each come to the same decision to enter a seminary. The book chronicles Mike, John and Ollie's fears and frustrations, hopes and dreams while they proceed on their unique path to adulthood.
Join us Wednesday, May 8 at 6:30 p.m. in Taylor Community's Woodside Building as John Tuohey, one of the three authors of this book, presents a lecture about this story. This event is free and open to the public.
Tuohey retired as a Lieutenant Colonel from the US Army Reserve. He was a Registered Nurse for 47 years, 34 as a nurse practitioner, working mostly in emergency departments and urology. Since retirement, he has traveled throughout the United States, camping in national parks and riding his bicycle in all the contiguous states and Hawaii. He is married with five grown children.
Posted in: Events, News
---