Biodiversity of the Galapagos Islands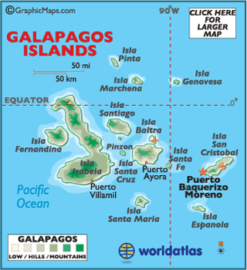 Located in the Pacific Ocean, the Galapagos Islands are famous for offering some of the best wildlife viewing in the world. Biology Professor Ken Thomas recently returned from a trip to the islands. He will share his experiences exploring the unique biodiversity of this area in a presentation Oct. 16 at 6:30 p.m. in Taylor Community's Woodside Building. This free event is open to the public.
Dr. Thomas will cover the geology of the islands, as well as background on the many birds, reptiles and mammals that make this area their home – including Galapagos penguins, sea lions and the highly endangered Galapagos tortoises.
The professor earned his AA in Liberal Arts from Northern Essex, a BS in Biology from UMass Lowell and an MS in Zoology and Ph.D. in Biological Sciences from the University of Rhode Island.
Posted in: Events, News
---