Daniel Perkins and the PSU Chamber Singers Feb. 26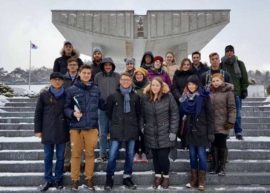 The 2017 Taylor Concert Series continues with Daniel Perkins, professor of Music and Choral Studies at Plymouth State University, directing the PSU Chamber Singers. The event is Sunday, Feb. 26 at 3 p.m. in Taylor Community's Woodside Building and is free and open to the public.
Musical selections will vary from Korean Folksongs to Brahms to Lennon and McCartney. Dr. Perkins and the 18-member group recently spent two weeks performing throughout South Korea.
Posted in: Events, News
---