New Orleans Jazz with Soggy Po' Boys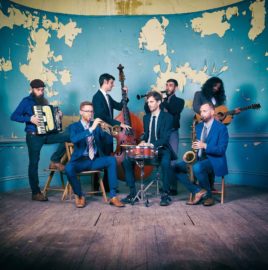 The 2019 Taylor Concert Series, sponsored by the Bank of New Hampshire continues Sunday, April 7 at 3 p.m. in Taylor Community's Woodside Building with the Soggy Po' Boys. The event is free and open to the public.
Born on a snowy Fat Tuesday night of 2012, the Soggy Po' Boys have been honing their craft of New Orleans' music in their hometown of Dover, NH. The group is comprised of: Stu Dias, guitar and vocals; Eric Klaxon, clarinet and soprano saxophone; Zach Lange, trumpet; Nick Mainella, tenor saxophone; Brett Gallo, drums; and Scott Kiefner, bass.
The men serve their jazz messy, mixing brass-fueled mayhem with spirituals, meters-style old school funk and the Caribbean side of the New Orleans tradition. You won't want to miss it!
Posted in: Events, News
---