Dr. Sax's Little Big Band in Concert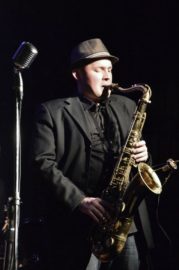 The 2019 Taylor Concert Series, sponsored by the Bank of New Hampshire continues Sunday, May 19 at 3 p.m. in Taylor Community's Woodside Building with Dr. Sax's Little Big Band. The event is free and open to the public.
Band Leader Jon Lorentz leads this group in swing jazz classics, made popular by the ensembles of Benny Goodman, Glenn Miller, Artie Shaw, Duke Ellington and the Dorsey Brothers. Lorentz calls his band "vibrant, energetic and humorous."
This band is comprised of some of the best professional musicians from around the state. Besides arranger Lorentz, who also plays Tenor Sax, the other members are Charlie Jennison, Alto Sax; John Franzosa, Baritone Sax; Tom Robinson, Soprano Sax; Jimmy Clark and Russ Ryan, Trumpet; Mark Taddonio, Trombone; Paul Bourgelais, Guitar; Chris Mega, Piano; John Hunter, Bass and Tim Gilmore, Drums.
Posted in: Events, News
---