Laconia's Colonial Theater Update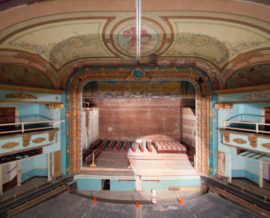 The Colonial Theater project is comprised of three distinct mixed-used developments: renovation of the historic theater, renovation of former apartment units into marketable residential use and four storefront commercial units. The entire property totals approximately 39,000 square feet.
The theater will be built with modern technology, accessibility upgrades, extensive historic rehabilitation and have a 750-seat capacity. It will be used to host various cultural arts activities, including live stage performances and musical acts. The City of Laconia will be the master tenant of the theater and manage the operations.
This project is one of the largest historic preservation projects in state history. Join us Thursday, Oct. 17 at 6:30 in Taylor Community's Woodside Building for an update on the Colonial Theater Project, presented by Justin Slattery. This free event is open to the public.
Posted in: Events, News
---