Love Letters, a Romantic Comedy, Jan. 23
Join us for a repeat performance of "Love Letters" by A.R. Gurney, Monday, Jan. 23 at 6: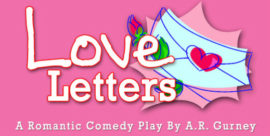 30 p.m. in Taylor Community's Woodside Building. This funny and poignant two-person play follows the relationship of two privileged WASPs – Melissa Gardner and Andrew Makepeace Ladd III – through the letters they write to one another over of the course of 50 years, starting in 1937. This event is free and open to the public.
The show looks at how people grow up, grow older and confront the results of the choices they make throughout their lives. Rebecca Cole of New York City and Center Sandwich, and Hank Offinger, Taylor Community's Director of Care Management, perform the roles of Melissa and Andrew.
Posted in: Events, News
---