Medical Quackery with Dr. Michael Cross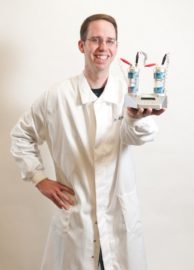 The late 19th and early 20th century is considered the "Golden Age of Quackery" – a time when snake oil salesmen sold patent medicines to an unsuspecting public. Can you tell scientific fact from fiction … or will you fall prey to the snake oil hucksters of today?
Dr. Michael Cross presents a lecture discussing many of the scientific and medical "quack" tonics and devices so prevalent during this period as well as their modern counterparts. Join us Wednesday, July 17 at 6:30 p.m. in Taylor Community's Woodside Building. This free event is open to the public.
Doctor Cross, Associate Professor of Chemistry, is department chair of Natural Sciences at Northern Essex Community College where he teaches chemistry and forensic science. He believes education should be fun and exciting and incorporates demonstrations and magic tricks into his teaching. He holds a Ph.D. in organic chemistry from the University of Utah where he specialized in oxidative lesions in DNA and RNA.
Posted in: Events, News
---