Mt. Rushmore Documentary, Jan. 23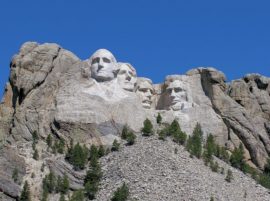 Join us Wednesday, Jan. 23 at 2 p.m. in Taylor Community's Woodside Theater for a fascinating documentary on Mount Rushmore.
It took 14 years and nearly $1 million to create. Men removed 500,000 tons of granite from the rock face of a mountain deep in the Black Hills of South Dakota, creating one of the biggest and oddest monuments in the world. George Washington's face is 60 feet long; the Sphinx would fit between the end of his nose and his eyebrow. Theodore Roosevelt's mustache is 20 feet across and Lincoln's mole measures 16 inches.
Posted in: Events, News
---