Musical Performance by Peg & Cheryl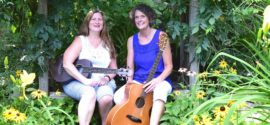 Taylor Community is proud to have a return performance by the talented duo of Peg Chaffee and Cheryl Sager, Wednesday, Aug. 30 at 6:30 p.m. in the Woodside Building.
Their performance includes contemporary folk music with stand-up bass, guitar, pennywhistle and exquisite harmonies. Their original music speaks to all aspects of everyday life, from whimsical to poignant, serious to silly. Sometimes irreverent, but never rude, they appeal to all audiences!
Posted in: Events, News
---