Prof. Michael Cross, the Chocolate Doctor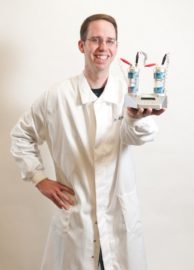 Do you have a sweet tooth for chocolate, but worry about the side effects? Despite the possibility of over-indulging, chocolate has a wide range of physical and mental health benefits, according to Professor Michael Cross, a self-proclaimed chocolate lover and chemistry professor at Northern Essex Community College, Haverhill, MA.
He will explain this and more during a lecture entitled "Chocolate: The Secret Indulgence." Monday, May 1 at 6:30 p.m. in Taylor Community's Woodside Building. This free event is open to the public and comes courtesy of the Northern Essex Community College Speakers' Bureau. The audience will learn what a perfect treat chocolate is and the various ways it affects the human brain. Chocolate samples will be included!
Posted in: Events, News
---