R&B Septet The Love Dogs in Concert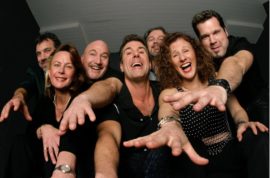 The Love Dogs are a rocking, swinging Rhythm and Blues septet from Boston with four critically acclaimed CDs and one of the best live shows you will ever see! Experience them live Monday, July 8 at 6:30 p.m. in Taylor Community's Woodside Building. This free event is open to the public.
Members Eddie "Duato" Scheer, Alizon Lissance, Myanna, Glenn Shambroom, Randy Bramwell, Steve Brown, Mario Perrett, Mark Paquin and "Sax" Gordon Beadle play original swinging, rocking jump blues and New Orleans R&B.
Take one red-hot horn section – we are talking alto, tenor, baritone saxes and trombone. Add liberal amounts of barrelhouse boogie-woogie piano and stinging Fender guitar. Pour over a funky and swinging rhythm section that Blues Review magazine called "the best in the business," and top it all off with a crazy and charismatic front man with one of the biggest blues voices around. It's a recipe for music and mayhem, for intensity and irreverence and a great evening of music!
Posted in: Events, News
---