Rockin' Daddios Bring Music to Taylor June 29
The Rockin' Daddios will bring you back to a simpler time with songs from the 1950s and 1960s when they perform at Taylor Community Monday, June 29 at 6:30 p.m.
You'll be guaranteed to smile, tap your feet and sing along with the true American sound of Doo-Wop as memories of Sock Hops, Drive-In Theatres and Malt Shops run through your mind.
This free event is open to the public and will be held in Taylor Home's Atrium. Please RSVP by calling 524-5600 Monday through Friday between 8 a.m. and 4 p.m.
The Rockin' Daddios are comprised of Angelo Gentile, Bo Guyer, Jim Rogato and Drew Seneca. The men formed the group after singing together in numerous musical reviews written by famed director and producer Irene Deschenes. When not performing as the Rockin' Daddios, each member performs individually in various theatre productions across the state, including "Les Miserables," "Spamalot" and "Little Shop of Horrors" to name just a few.
Come and relive the good times of the 1950s and '60s with the Rockin' Daddios!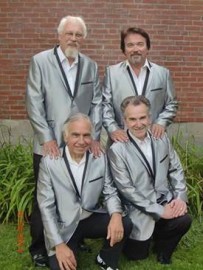 Posted in: News
---