Studios at Crescent Pond – An Artist's Lecture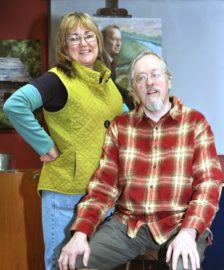 Fine art emerges from the union of talent and inspiration. For more than a quarter of century, Sandy Sherman and Richard Whitney, two of America's most gifted classical realism artists, have found a boundless source of inspiration in the seclusion of Crescent Pond, surrounded by the natural beauty of thousands of acres of forest land and its many creatures.
Whitney, recognized as one of America's top 12 portrait artists, is equally talented as a landscape artist, mentor and author. Sherman is an award-winning still life and landscape artist. Lauded for her masterful use of light and color, she is well known for her whimsical "Grotoon" paintings.
Join us Wednesday, June 19 at 6:30 p.m. in Taylor Community's Woodside Building for this free, public lecture, which is sure to inspire the artist in you.
Posted in: Events, News
---