The Rockin' Daddios in Concert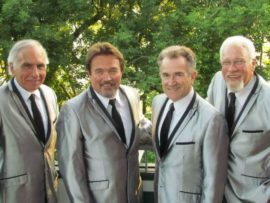 The music of the 1950s and '60s conjures up many special memories for those of us commonly referred to as Baby Boomers. The Rockin' Daddios are well-known for bringing back some of the beloved songs of that era, with the accent on harmonies and fun. Remember "Book of Love;" "Wake Up Little Susie," and "Lion Sleeps Tonight"?
Lakes Region Residents Jim Rogato, Bo Guyer, Angelo Gentile and Drew Seneca have been performing together in various shows and reviews for more than 10 years. Collectively their community theater experience spans six decades!
Mark your calendar for Monday, June 24 at 6:30 p.m. in Taylor Community's Woodside Building for this free, public event guaranteed to warm your heart and put a smile on your face.
Posted in: Events, News
---