CANCELLED – Weirs Historic Signs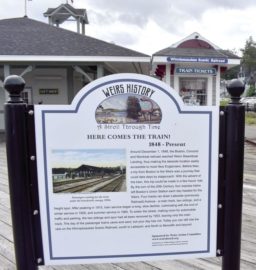 If you walk on Lakeside Avenue's Boardwalk, you'll find a new feature – eight signs on four metal stanchions that will take you back in time. Sponsored by the Weirs Action Committee, the topics were chosen by committee members. These signs spotlight historical events and Weirs icons such as Weirs Beach Takes Flight; The Mount Washington Cruise Ship; the New Weirs Hotel; Laconia Motorcycle Week, the Weirs Beach Trolley and more.
Join us as K. Peddlar Bridges discuses all eight signs in a lecture Tuesday, Nov. 12 at 6:30 p.m. in Taylor Community's Woodside Building.
Posted in: Events, News
---