Uplifting Musical Duo Slated for Jan. 25
Horizon – the duo of John and Johanna Byerley – has been entertaining throughout New England since 1990. They'll bring their talents to Taylor Community's Woodside Building, Wednesday, Jan. 25 at 6:30 p.m. This event is free and open to the public.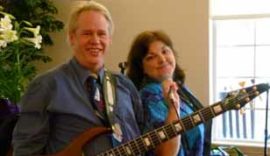 Horizon's musical performances offer a wide range of selections such as "Blue Skies," "Stormy Weather," "What a Wonderful World," "Twist and Shout" and "Unforgettable." With their lovely vocals and wonderful guitar work, John and Johanna will have everyone smiling, singing and clapping along.
Posted in: Events, News
---