The Volunteer Lake Assessment Program, March 15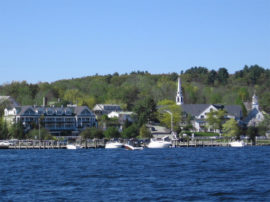 Have you ever wondered how a state with only eight aquatic biologists can evaluate the water quality of more than 800 public lakes and ponds? It would be impossible without the help of dedicated statewide volunteers who offer their time to the NH Department of Environmental Services.
Sara Steiner, the Volunteer Lake Assessment Program coordinator, explains the program in a presentation at Taylor Community's Woodside Building, Wednesday, March 15 at 2 p.m. The event is free and open to the public.
The VLAP began in 1985 as a collaborative effort between the state and citizens interested in collecting water quality information on the State's lakes. Today it includes more than 500 volunteers monitoring approximately 180 lakes throughout New Hampshire. Steiner will discuss volunteer opportunities with the organization; how the collected data is used and the current health of the state's lakes and ponds.
Posted in: Events, News
---