Water Babies Classes Begin Sept. 23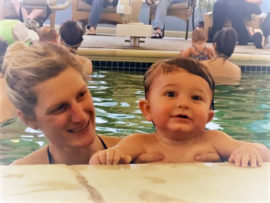 Martha McIntire, a certified swim coach and instructor teaches Water Babies Classes for 6 to 18-month-olds beginning Saturday, Sept. 23 at 10:15 a.m.at Taylor Community. The five-week class has two sessions: 10:15 and 11 a.m. and space is limited. The cost of the classes is $65 and lessons are held at the Taylor Community therapy pool, 227 Ledges Drive in the Woodside Building. To register, contact Tammy Levesque at 366-1206.
This program is held as a community benefit as well as being a joy for Taylor residents who get to meet the families. Please note a second session is planned beginning Oct. 28.
Posted in: Events, News
---